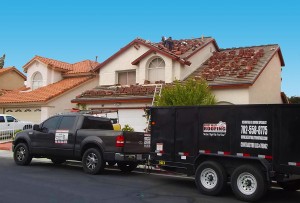 The most common roof found in the Las Vegas Valley for residential homes is a tile roof. Most people are under the misconception that a tile roof is a life time roof that is maintenance free. This is not the case.
Although a tile roof is made from concrete or clay and does have a 50 year manufacturer's warranty, it requires regular maintenance as do all roofing systems. If not maintained properly, the underlayment – which is usually a 30-40 lb. felt system – can deteriorate prematurely.
With good maintenance a tile roof with a standard 30 lb. felt underlayment will last 20-25 years before an "underlayment replacement" is needed.
Another common misconception is that tile is waterproof.  This is not the case.  The underlayment is the waterproofing underneath the tile. In most cases tile will shed 70%-80% of water with the balance ending up on the underlayment. Because of this, a heavy underlayment for a tile roof is recommended, either 2 layers of 30lb. or an ice and water shield.