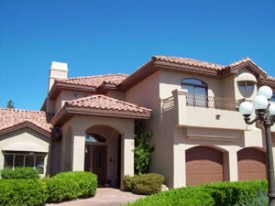 Here at Desert Valley Roofing, we believe in giving customers great value for their investment.  We see a roof as a big, important investment in your home.  Because it is so important, remember to consider value as well as price.
The price of a new roof varies widely depending on the materials selected, the contractor doing the work, the home itself, the area of the country, local labor rates, and much more.  Cost must be balanced against the quality of the materials and workmanship. For each roofing material there are different grades with corresponding prices.
Plus, there are a variety of styles and shapes. You need to look at the full product range and make a choice based on your budget, your property's needs, and what you like best.  Putting a roof on your home is not only an important financial decision, it has an important aesthetic value for your home, too. When you drive up to your home, you want to say to yourself, "that's a nice looking roof."
Within the roofing profession there are different levels of expertise and craftsmanship. Desert Valley Roofing LLC has the highest quality Las Vegas Roofing Specialists on staff and is committed to quality work.